Product Dimensions:
Product Details: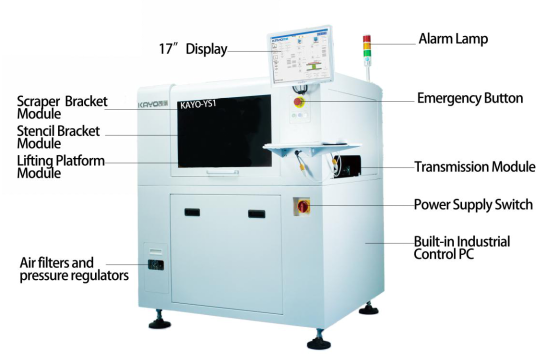 Product Feature:
1. Adopts IPC + full digital ARM industrial motherboard control system. Compared with the PLC+ touch screen solution, it has a more beautiful human-machine interaction interface, richer functions and more complete security protection.
2. Automatically input and output PCBs, avoiding the bending of the large PCBs, protecting the printing environment, and avoiding the waste of solder paste.
3. Standard SMEMA communication interface, which can communication connect the conveyor and pick and place machine, automatic input and output PCBs to improve production efficiency and automatic production line establishment;
4. Full digital DSP stepping drive, the speed of motion is adjustable, strong stability;
5. Suspension scraper design, automatically balances the blade pressure to make the printing uniform without damaging the stencil frame and the scraper;
6. Automatic clamp stencil frame design, fast and accurate positioning and good repeatability;
7. The scraper is made of imported materials and high-precision etching process, which is more durable than ordinary blades and higher precision;
8. Magnetic movable thimble design can print the double-side PCBs at the same time, so that the PCB can be effectively supported to avoid printing depression, less tin, more tin and so on;
9. A variety of positioning devices, can be board edge positioning and hole positioning for accurate and fast positioning;
10. Movable fixed stencil frame design, width can be freely moved according to different products, compatible with various sizes of stencil frame, and equipped with automatic clamp stencil frame function, faster, more accurate and more convenient positioning.
11. Equipped with automatic washing stencil frame reminder, the number of washing can be set as needed.
Product Specification: