Product Dimension:

Product Features:
Unique, advanced and long-life heating system:
1. High efficiency and energy-save Swedish nickel chromium heating pipe is used in heating system, radiation power peak wavelength 4UM, equipped with surface reflector, high thermal efficiency, rapid heating speed, specially-made strong hot air cycle structure system, making PCB and components heating equally, completely eliminate the shadow effect.
2. Imported Taiwan Yangming high-current solid-state relay non-contact output, safe and reliable, combined with the temperature controller which has unique fuzzy control function, always monitoring the outside temperature and heat value changes, control heating components with minimize pulse , fast response to ensure temperature control accuracy ±1℃, the error of inside temperature distribution ±2℃. Temperature distribution in the length direction conform to IPC standards.
3. Temperature control adopts Japan RKC precision instrumentation fuzzy control and PID intelligent operation precision controller, through PID intelligent calculating, control heating automatically, increasing blurry controlling function, overshoot and suppress function can respond to outside thermal changing with furthest speed ,plus the inside controller could make temperature more stable.
4. Heating pipe modularization design, easy to repair and assembly.
5. Imported Taiwan Sanyue high temperature and high speed motor, stable operation,small vibration, small noise.
6. Upper oven body can open wholly to make the inside clean.
7. With temperature tolerance, fault diagnosis, sound and light alarm.
8. Power abundant, rapid heating, from room temperature to constant temperature about 15 minutes.
9. Dedicated SSR radiator, radiating efficiency is significantly improved, effectively extend its service life.
10. All adopt imported components to ensure the entire system high reliability.
Reliable and smooth transmission system
1. Transmission system adopts Japan Matsushita stepless speed motor, adjustable belt speed stepless speed governor, smoothly operating matched up with 1:150 turbine reducer, speed 0-2000mm /min stepless adjustable, and also accurate digital Line speed indication.
2. Adopt independent roller structure and support, combined with supporting stainless steel mesh belt, running smoothly, precise speed up to ±20mm/min;
3. Special stainless steel "乙" type mesh belt, durable and wearable, lasting non-deformation.
Product Details:
1. 12pcs of controlling meters
2. Wiring
3. Air Outlet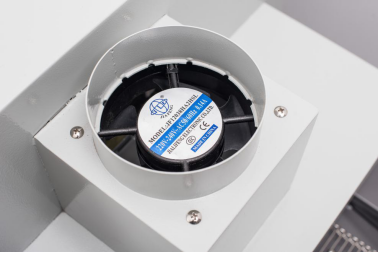 4. Heating Pipe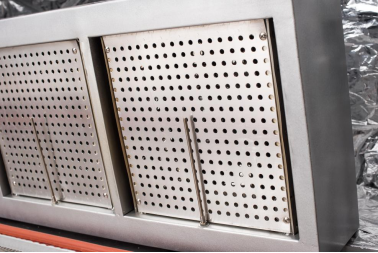 5. Six sets of motor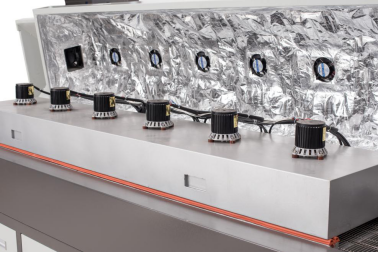 Products Specifications: