Product Dimensions:
Product Description:
1. A compact, all-around, uncompromising performance p&p machine. Suitable for current and future surface mount applications.
2. Providing excellent performance, is a creative, has a truly highly flexible placement method. At the same time, can also provide the same excellent placement speed, intelligent functions and component flexibility.
3. Very suitable for medium and large batch production in a highly mixed production environment. At the same time, the advantage of software's comprehensive intelligence shortens the machine setup and product changeover time, which is conducive to the production of small batches and multiple varieties. The comprehensive production capacity has never been seen before.
4. As part of KAYO complete line of placement solutions, S600 can be said to be extremely valuable. Existing KAYO users can seamlessly connect new and old machines to increase productivity and gain unprecedented flexibility.
5. For new KAYO users, S600 offers very high component flexibility and refreshing placement speed. Adopts intelligent software programming, automatically optimizes the recognition path, and exchanges the position of distribution components by man-machine. It also supports multiple feeding methods such as tape, tray, tube and bulk.
Product Feature:
Huge component supply capacity: 82*8mm.

Digital camera: 9 sets of cameras with different functions work together to ensure accuracy.

Friendly image human machine exchange interface.

Intelligently optimize pick and place path, automatic dispensing nozzle and feeder position.

S600 Self-contained component library.

Fully automatic springboard function.
Product Specification: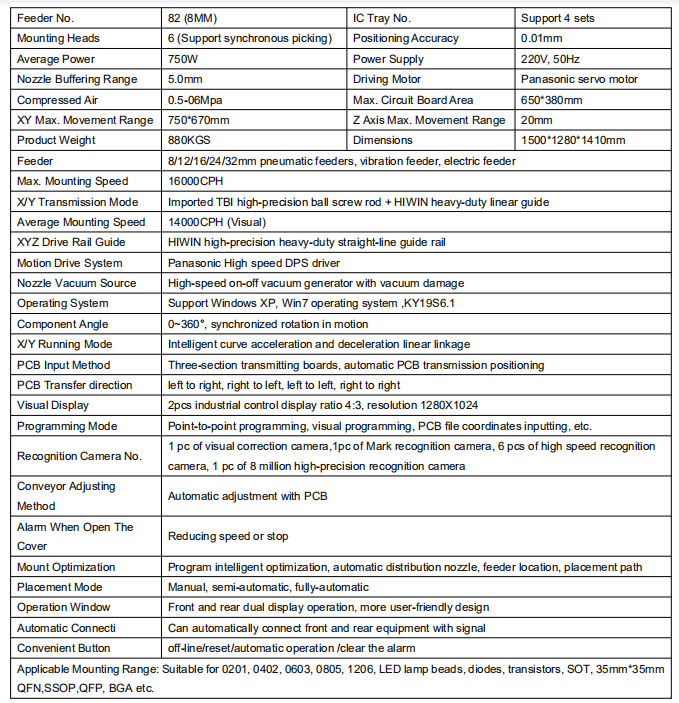 Actual Placement Effect:
Whole Production line:
Program 1:

Program 2:
Program 3: